What's Happening in YL Dawson Creek?
News
History in the Making | Young Life Dawson Creek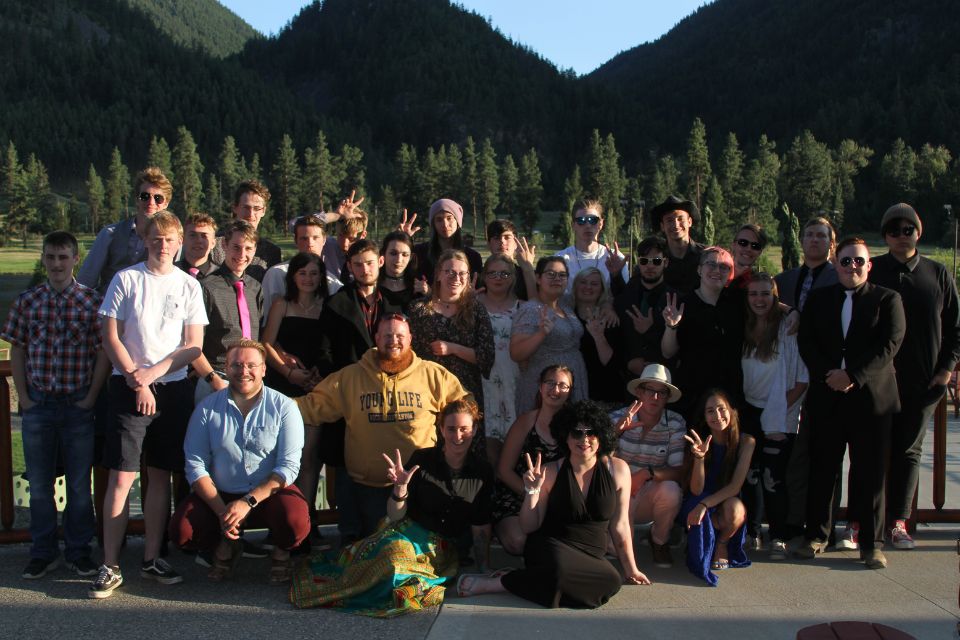 [Excert from Celebrating 50 Years of Young Life in Canada
by Victoria Crompton]
The story of Young Life in Dawson Creek, BC, began with John Van Spronsen and his son, Tom. Encouraged by Paul Gurgoyne and Jack Mortensen, the Van Spronsens began to meet with a few others to pray for God's leading, and to make plans to bring Young Life to their community.
A few months later, a committee was in place. Marja Van Genne: "The founding committee stayed together for ten years. They were John and Tini Van Spronsen, Joe and Lorna Price, Tammy Simmons, Frank and Bev McAllister, and Peter [Van Genne] and I." The committee raised funds, and invited Grant and Michele Diener to Dawson Creek, where Grant became the first Area Director in the fall of 1991.
With the exception of Frank McAllister, who had been a Club kid in Vancouver under Jack Mortensen, no one in Dawson Creek knew anything about Young Life. Grant Diener: "It was very much a pioneering thing." Grant started by establishing a relationship with a Christian teacher at the high school, South Peace Senior Secondary. Within a couple of months, Grant was assistant coach for the football team. Grant: "I had never played a day of football in my life. But the head coach was very supportive, and I learned that if you seemed very sure of yourself, and you yelled a lot, the players would do what you told them."
There are no universities or Bible schools in Dawson Creek. Grant recruited most of the leaders from a couple of churches. Most of the leaders were in their 30s, and some where married with children. Though they were uncomfortable at first going into the schools where the kids were so much younger, they were committed, and within a few months, had begun to develop relationships. Grant: "Some of our leaders had been out of school for 20 years. But the advantage was that there was a real spiritual and emotional maturity that you sometimes don't have with the university age crowd. A lot of people on the committee also helped with the kids. Some of them came as support people for the different trips. We always had four or give committee members come on our ski camps. They did all the cooking."
Three kids and a leader from Dawson Creek had their first exposure to Young Life when grant took them on an Edmonton Young Life ski trip. In the spring of 1993, Dawson Creek Young Life had its own ski trip to Lake Louise. Grant "We took twelve kids, four leaders, and a couple of committee people. We left at four in the afternoon. It snowed and snowed, so we didn't get in until four in the morning. We had such a great time. For the kids, getting out of Dawson Creek was such a big thing. Some kids had never been to a city before. Lots had never been to Edmonton. When we eventually took kids to Malibu, some had never seen the ocean. After that first year, with twelve kids, the ski trips really took off. It was no problem to fill a bus. For the next two years we went to Lake Louise, and for the next three years after that we went to Jasper. It was a wonderful thing for those kids to see big mountains for the first time. It was so easy to find things that those kids had never experienced before."
The twelve kids who went on the first Dawson Creek ski trip became the nucleus of the Club, which started shortly after the trip. At first, the Club meetings, which included breakfast, were held at the Dieners' place on Monday mornings. Later on, as numbers grew, Club was moved to Wednesday evening, and the Monday breakfast slot became Campaigners.
As so many of the kids lived in rural areas, transportation was an issue. On Club night, many would stay in town after school or arrive early at the Dieners' for dinner at 6:00 p.m. Grant: "About half a dozen of my football guys would come, because we would have practice after school on Wednesdays. I would rush home and there would already be kids and leaders in our basement. Michele and I weren't the only ones who had keys to our house. The committee people would come over and help cook. We'd do perogies or roast beef. We did turkey for Christmas.
It was the kind of community where there were a lot of drug and alcohol problems, and also teenage pregnancies. One year we had three babies coming to Club with their teenage mothers. The babies would stay upstairs with the committee folk, and the teenage moms would come downstairs to Club. Club was still a place where they could hang out with their friends."
In the summer of 1994, Grant took a group of junior high guys to a Breakaway Camp on Thetis Island. A number of those kids would eventually become key to the ministry. The next year, a group of junior high girls went with a volunteer leader to the Breakaway Camp on Oregon coast.
By 1995, there were 30 to 50 kids coming to Dieners' for dinner and Club. That year, Chris Dokkie was hired on as part-time staff to help handle the increasing numbers in both senior and junior high.
In 1996, Dawson Creek Young Life took a busload of kids to Malibu. Grant: "I remember when we were finally able to take a busload. We were like the big boys. There was the Calgary bus, the Edmonton bus, and the Dawson Creek bus."
In August 1997, Grant and Michele left Dawson Creek and headed south to work with Young Life in Kelowna. Until Hendrik and Christy Verveer arrived the next February, the volunteers and committee kept the work going. The first time Hendrik met the committee, he was pleasantly surprised. Hendrik: "Two couples on the committee were Dutch. I was able to converse with them in my first language."
Hendrik developed a Campaigner group, three of whom were particularly dynamic and committed to bringing their friends to Club. Hendrik: "Those three guys became the nucleus of our Campaigner group, and the ministry took off mainly through their efforts."
By 2000, the Dawson Creek Young Life ministry had expanded sufficiently that Kendra Shields was hired on in a church partnership. Three years later, Hendrik and Christy moved to Lloydminster, Alberta, to pioneer Young Life there, and Kenda became Area Director in Dawson Creek.
GRANT DIENER
Adapting to life in a northern community. Lots of kids had jobs, but most of them weren't saving up for university. When we arrived in Dawson Creek, I had this little four cylinder Ford Festiva. When I drove into the school parking lot, there were big 4×4's everywhere. I got rid of my little car, and bought a rusty '79 4×4 truck. The kids were impressed. That's one thing I did to adapt to the culture. I started listening to a little more Garth Brooks. I bought two guns. I never fired either of them, but I had them.
"One of the kids drove me crazy." None of the kids had been to Club, and they didn't realize that when the person was giving the Club talk, you were supposed to be quiet. One kid was shouting, "What do you mean by that? That doesn't make sense!" I was trying to illustrate sin by pouring water, and he was laughing at me. I had done Club talks in Calgary, and I was used to 30 or 40 kids who knew what it meant to be in Club during the talk. These kids were interacting with me. They didn't realize that I was asking rhetorical questions, that they were just supposed to think about it, not actually answer back. I thought, "Here is a kid who is so far away from the Gospel, and so far away from God." I didn't think he was getting it. When we dropped them off, he was the one kid who said, "Thank you so much for talking to us. It was so fun, I'm so glad to be a part of this."
Lots of opportunities for adventure. Eight of us went on this big quad trip. About half of them were Campaigner kids. A couple of committee guys came. We camped in the bush. We got as far as we could go with the trucks, and then took the quads from there. We had Club each night. I shared a passage of Scripture and we talked about that. The smaller group stuff was good, because guys felt more comfortable talking with each other. We would do day trips away from the campsite. Then, when we came back to the campsite, it was easier for them just to talk. It was very much like a Beyond trip, in that we had these physical experiences together.
"It wasn't just me; it was their relationship with God." Nick became a Christian in Grade 10. He continued to be involved in Club, and then went on work crew and summer staff. Seeing him sharing his testimony, and then seeing him go on to be a Young Life leader with Hendrik, was a great thing. That's a measure for me that these kids were really getting it. It wasn't just me; it was their relationship with God. They wanted to continue to grow even if I wasn't there. It was wonderful to see him be involved in a church, and then this past spring to be at his wedding, and say the grace at the table.
HENDRIK VERVEER
"Although Dawson Creek is isolated, teens deal with the same issues of sex, drugs, and alcohol that city kids deal with." However, their experiences in life are limited to Dawson Creek. In general, kids did not travel much. Many teens worked a lot and were bored; they were always driving around town. Our house was visited frequently by teens that wanted to hang out. This made contact work easy. If Christy and I wanted some time to ourselves, we parked the car a few blocks away. Otherwise the doorbell would ring constantly.
"I have learned that it does not matter how small a community is, the need is great." A smaller community gives you clearly defined boundaries of your mission field. Having a passion for youth is not determined by age. My committee chairman, John Van Spronsen, is 70 years old. He started a drop-in center called the Ark, where countless youth spent time playing ball hockey, and hearing and experiencing the love of Christ. John looked at the high school across the parking lot from his church, and he wondered who was caring for the teens in that school, because they certainly were not coming to his church. Of course John had lots of help from his family and friends, but it was his tenacity in the midst of all the hardship that come with starting a new ministry that got Young Life in Dawson Creek going.
Related posts